Gone are the days of working with glass objects on an open flame. Creating glass crafts is a lot easier with glass kilns. These kilns allow you to heat the glass, ceramics, and other materials to their melting points to create whatever you want.
But not every kiln is suitable for versatile projects. Some kilns need a bigger learning curve which can be a hindrance for those just starting out. That's why we reviewed some top kilns to help you choose the best glass kiln for beginners.
Let's get into more detail and find out which kiln will be worth your investment.
What is Glass Kiln? What are the Benefits of Using it?
A glass kiln is an insulated oven that is used to fuse glass to make unique objects. Glass kilns are fired with either electricity or gas to reach the optimum temperature for melting the target material.
Here are a few benefits of using glass kilns:
You can control the temperature level in glass kilns according to your requirements.
Different techniques like glass fusing, casting, slumping, etc., can be done in kilns.
Glass kilns let you create versatile programs for different materials.
Small glass kilns are portable and can be used anywhere in your home.
Reviews of the 7 Best Glass Fusing Kiln for Beginners
FUSEWORKS Craft Kiln
With a simple yet effective design, user-friendly controls, and easy setup, FUSEWORKS glass fusing kiln is very suitable for beginners. It takes almost no time to set up and gets heated quickly to start working on your first draft.
This versatile glass kiln is designed to handle various glass slumping or casting projects. You can also work with ceramics on this kiln. It takes about 13.5 inches x 8.5 inches in area.
But the firing chamber has a diameter of 8.5 inches and a height of 3.5 inches. So, it's clear that you can't work with large items on this kiln.
The temperature inside the firing chamber can reach up to 1750 degrees Fahrenheit. When you work on this kiln for the first time, it is better to pre-heat the chamber for 15 minutes.
Here comes the built-in timer. As it is connected to the lid, you can easily monitor the time to know whether your project is finished or not. The kiln has a stand so that you don't burn your table underneath while working.
With a power rating of 1200 watts and a weight of 15 lbs, this is one of the best glass fusing kilns for beginners.
Key Features:
Runs on wall outlets, so very convenient for beginners
It has a high-temperature rating compared to the size
Very compact and highly portable
Built-in timer for monitoring projects efficiently
User-friendly design with simple controls for ease of use
RapidFire Programmable Tabletop Kiln
No products found.
RapidFire kiln is a combination of a high-temperature firing chamber with programmable settings that will come in handy for expert crafters. The kiln is quite big yet lightweight at only 12 lbs.
It has a power rating of 1500 watts. You can place the kiln on any countertop to do versatile projects. The firing chamber is quite large, so you can fit larger objects inside the chamber.
After firing up the kiln, it takes only eight to ten minutes to reach a temperature of 2200 degrees Fahrenheit. That's a lot of heat to be used for glass fusing, metal clay firing, and so on.
It has an advanced digital control panel that shows you all the relevant information and lets you program the right setting for different materials. You can customize programs according to your need and save them for quick use when necessary.
There is no fuss in setting up the kiln for the first time. An illuminated cooling fan is placed underneath the firing chamber to keep the wiring cool. You can get the temperature reading both in Celsius and Fahrenheit.
This kiln has a great combination of performance and functionality.
Key Features:
Compact but has a large firing chamber
Faster heating ensures you get your projects done quickly
Lightweight, so you can carry it to places
Suitable for many different materials
Love Charm Fusing Glass Melting
No products found.
The first microwave home kiln for glass is on the list! Fusing glass becomes much easier with this easy-to-use kiln for beginners. The body of the fusing oven is made of ceramic fiber.
As the oven wall is pretty thick, the firing chamber inside is quite small compared to the outer diameter of the kiln. So, it will be more suitable for making glass jewelry or small crafts.
Using the kiln is also easy as it requires no learning curve. But as you need to place the kiln inside a microwave oven, you need to go through some trial and error to find out the sweet spot in terms of temperature and timing.
Once you are comfortable, this kiln will be very handy to manage. The temperature inside the firing chamber can rise up to 1650 degrees Fahrenheit in only eight minutes.
It is also very lightweight at only 1.76 lbs. So, you can carry the kiln anywhere and easily place it on top of a counter. The bottom tray of the kiln will remain cool enough to not damage your countertop even if the inside is melting hot
Key Features:
A thick wall ensures heat doesn't escape from the inside
Heats up easily and reaches a high temperature to work with different materials
Very compact and lightweight
Comes at an affordable price to be suitable for beginners
Delphi Glass Ez-Pro 15-6 Kiln
No products found.
Delphi kiln glass has a large firing chamber of 15 inches by 6.5 inches, so you can heat up large objects for your craft. This applies to both beginners and experts as there are 16 pre-set and 22 custom programs.
Beginners will benefit from the pre-set programs as they don't need to adjust pretty much anything. And professionals can use custom program slots to make suitable heating programs for their needs.
Heating elements often have a short service life due to excessive heat generated inside the chamber. But as this kiln has top and side firing elements, they will last longer than usual. The heat will also be distributed evenly to leave no patch on your projects.
But as the kiln is quite heavy at 80 lbs, carrying it from one place to another will be a minor issue. The included handle helps a lot in terms of portability.
Though this is a home kiln for glass, you can use other materials like metal clay as well. But the learning curve is a bit higher for beginners.
This will be the best kiln for fusing glass for any level of glass crafter. With its large firing chamber and customizable options, you can handle a variety of projects.
Key Features:
The rugged build of the kiln is very durable.
Enough space inside the firing chamber for large projects.
Can be heated up to 1,700 degrees Fahrenheit.
Pre-set programs for beginners and customizable programs for experts.
Paragon Caldera Digital Kiln
Paragon Digital Kiln is one hell of a firing mechanism that allows you to work with porcelain, ceramics, and a lot of other materials. Whether you cast and fuse glass or test glaze, this square kiln will outperform almost any other kiln in its class.
Let's focus on the construction first. The Caldera kiln is highly durable due to its firebrick construction. Every element of this kiln is designed to have a long service life.
It draws 1680 watts from standard outlets and can reach up to 2350 degrees Fahrenheit, which is good enough for working stoneware or ceramics. A rugged stand is provided with the kiln, so you can easily place it on a desk or counter.
You can even order a glass window as an option to see the inside of the firing chamber better. The chamber is 8 inches in length and width, but the depth is a bit less at 6.75 inches.
This kiln has one of the most advanced controllers of all kilns, called the Sentry Xpress 3-key controller. With this controller, you can do many different things, including setting temperature alarms, controlling hold time, thermocouple adjustment, and so on.
With all these intriguing features, the Paragon kiln comes at a good price. But as it is intended for a bit experienced crafters, including professionals, spending one grand to get the kiln will be a pure joy. If you want a kiln for fused glass this should be top on your list.
Key Features:
Rugged build with firebrick for better insulation
Large firing chamber for working with versatile materials
The smart controller is customizable in many ways
Program review feature for checking any possible errors
Skutt Glassmaster GMT-1227 Kiln
No products found.
Don't have enough space inside the firing chamber to work with large objects? Bring GMT-1227 as it has an inner dimension of 28 x 28 x 13.5 inches. Unless you need a studio-size kiln, it will meet all your glass melting needs.
The most interesting feature of this kiln is its sectional design. Due to this feature, you can take the kiln apart in pieces without much hassle and repair or replace any component easily. It also becomes easier to shift the kiln from one place to another as this thing is quite heavy.
Another great addition to this kiln is the controller. You have plenty of options on the control panel, and they are easy to understand. This is the only controller that comes with GlassFire mode to write different programs easily.
You can even diagnose the issues of the kiln by pressing a few buttons. Current sensing technology is another big leap here. You can see the amperage of different sections to know whether everything is going right.
If these aren't enough, this kiln comes with thermocouples that ensure every section of the firing chamber is heated uniformly. These thermocouples in different sections also help in fusing on different levels.
Key Features:
The sectional design increases the functionality of the machine.
Firing can be done on multiple levels while keeping the heat uniform.
Advanced controller to manage versatile workloads.
Current sensing technology safeguards the working environment.
Hensom Large Microwave Kiln for Glass Fusing
No products found.
Looking for an easy solution to your DIY glass crafting? Hensom microwave kiln is the right tool for your needs. It also has a smaller version, but the larger one will give you more space to handle various projects.
This glass fusing oven can reach up to 1,650 degrees Fahrenheit. The firing chamber has a diameter of 5.3 inches and a height of 1.8 inches. So, this is actually a small glass fusing kiln that will be perfect for making glass jewelry or other DIY projects.
It doesn't need to be pre-heated like an electric home glass kiln. You can get glass pieces softened in as little as five minutes. As the tool is very small, you can place it anywhere. It weighs about 2.65 lbs, so it is highly portable.
As there is no complicated control, beginners will get the maximum advantage of this kiln. But some safety precautions should be taken to keep the working area out of danger.
The kiln is made of heat-resistant ceramic fiber, so it will be extremely durable. Even when the inside is scorching hot, the outer surface will stay cool enough to handle to kiln easily.
Key Features:
Made of ceramic fiber, so the kiln is heatproof
Higher temperature rating even if the kiln is too small for standard projects
No delicate parts, so it is very durable
Very compact and lightweight, so easily portable.
The ultimate choice for making glass jewelry.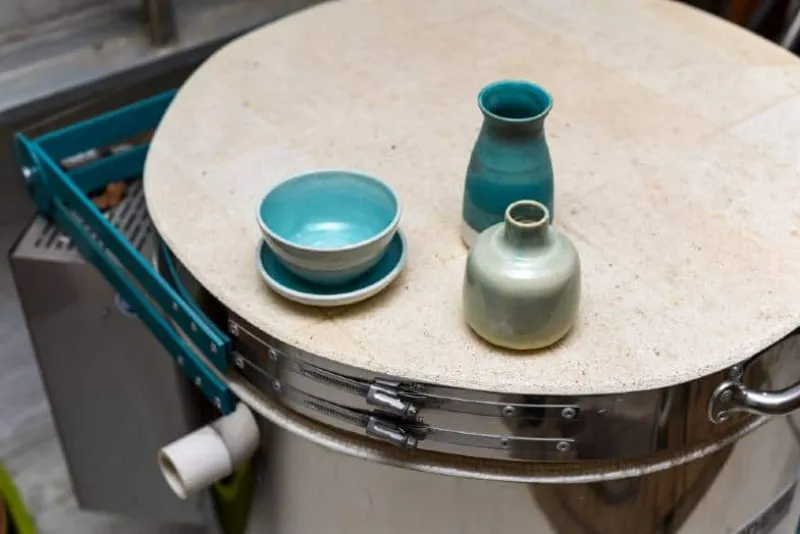 Glass Fusing Kiln Buying Guide
Selecting the right kiln for your purpose can be overwhelming as you need to check plenty of factors. To simplify the process, we have put the most important factors here for you to choose the best glass-fusing kiln.
Size of the Firing Chamber
Glass kilns come in many different sizes, starting from a few inches in length and width. You need to consider your project size to determine what size kiln you will need.
If you are a beginner and want to start with small objects such as firing beads or small glass pieces, anything lower than 10 inches in depth will be just fine. But if you are up to working with larger objects like pots or so, consider buying a larger kiln.
Working Material
Kilns that can handle only glass usually work at a lower temperature. But ceramic kilns need to fire at a high temperature. You should determine the kiln type depending on the material you will be working with frequently.
Glass kilns are a good option for beginners. As you start gaining experience, you can switch to ceramic kilns that can handle a variety of materials.
Power Rating
The power rating of a glass-making kiln mostly depends on its size. Smaller kilns can be run on standard home outlets. 120V and 15amp is the standard for household electricity.
Kilns smaller than 10 inches will rarely require more than 1500 watts. So, smaller kilns will be suitable for beginners who want to use the kiln at home or don't have a full-fledged studio.
But if you need something bigger, make sure the power source is compatible.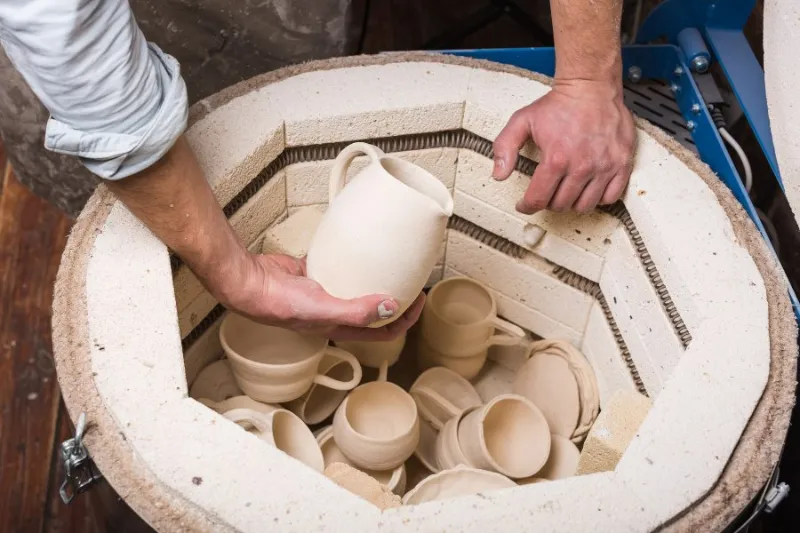 Firing Temperature
Always focus on the firing temperature of a kiln before buying. This will tell you whether the kiln is suitable for your projects or not. As glass is a low-fire material, glass kilns that fire up to 1700 degrees Fahrenheit will be good enough.
But if you want to work with ceramics or porcelain as well, consider taking something with a higher firing temperature, somewhere between 2200-2300 degrees Fahrenheit.
Controller Type
Glass fusing kilns mostly come with two types of controllers. One is the manual controller, and the other is the electric controller. Manual controllers aren't that suitable for efficient work.
Electric controllers allow you to control different aspects of the firing process through buttons or touchscreens. You can use pre-set programs or even create your custom programs on advanced controllers.
Unless you have a little knowledge about the firing process and controllers, you should stick to a manual controller to learn your way up. Then you can switch to electric controllers.
Ventilation
Choose a kiln depending on where it will be placed. If you use the kiln in a crowded area, it should have a better ventilation system. But if you use the kiln in a devoid place, moderate ventilation will do fine.
Also, check whether the kiln has a sturdy stand so that you can easily place the kiln on a desk or counter.
FAQs About Glass Fusing Kiln
Let's clarify some of the frequently asked questions about glass kilns.
What type of kiln is the easiest to use?
Between electric and gas kilns, electric kilns are much easier to operate for beginners. At the same time, electric kilns fire objects smoothly so that there is no patch on the final product.
Is it safe to have a glass kiln in your house?
As long as you follow all safety regulations to set up and use a glass kiln, there will be no issues with using the kiln in your house.
Can a glass kiln be used for pottery?
Kins are differentiated by the level of their firing temperature. So, a kiln that reaches a high enough temperature can be used for ceramics, glass, or pottery. But a glass kiln must have lid elements to heat materials from the top.
Can you use your oven as a kiln?
A bare oven should never be used as a kiln. Rather you can buy glass kilns for home use to create the ideal environment for glass fusing.
Do glass kilns need to be vented?
As firing objects in kilns produce toxic gases, glass kilns need to be properly vented. The need for ventilation increases when the kiln is placed inside a crowded room, like a studio.
Are ceramic and glass kilns the same?
No, they aren't the same. Glass kilns usually have top elements, whereas ceramic kilns have both side and top elements for even firing from the sides.
Final Word
Melting glass to give it a new shape or look is a delicate art to master. But once you get familiar with the techniques, you can create amazing designs with glass or other materials. You just need the right glass kiln to perform the desired task.
We have gone deeper into some efficient glass kilns to streamline your glass crafting and let you know their ins and outs. It will be much easier for you now to choose the best glass kiln for beginners to continue your crafting journey.